VOCATION SUNDAY 2022
From Pope Francis' message for the World Day of Prayer for Vocations:
"… God addresses a particular call to each of us. He touches our lives by his love and directs them to our ultimate goal, to a fulfilment that transcends the very threshold of death. That is how God wanted to see our lives and how he sees them still.
Michelangelo Buonarroti is said to have maintained that every block of stone contains a statue within it, and it is up to the sculptor to uncover it. If that is true of an artist, how much more is it true of God! In the young woman of Nazareth he saw the Mother of God. In Simon the fisherman he saw Peter, the rock on which he would build his Church. In the publican Levi he recognized the apostle and evangelist Matthew, and in Saul, a harsh persecutor of Christians, he saw Paul, the apostle of the Gentiles. God's loving gaze always meets us, touches us, sets us free and transforms us, making us into new persons.
That is what happens in every vocation: we are met by the gaze of God, who calls us.
Read more
COULD GOD BE CALLING YOU?
Has anybody ever said to you that you would make a good priest?
Have you thought about the idea, but tried to put it out of your mind?
Do you think you might have a vocation?
Do you have what it takes?
"Discovering vocation does not mean scrambling toward some prize just beyond my reach, but accepting the treasure of true self I already possess.
Thomas Merton
VOCATIONS BOOKLET FOR SCHOOLS AND PARISHES
Local priests and seminarians share their vocation stories in this illustrated booklet available for use in schools and parishes. For more information contact l.hensel@wn.catholic.org.nz
ORDINATION TO THE ORDER OF DEACONS – Alfred Tong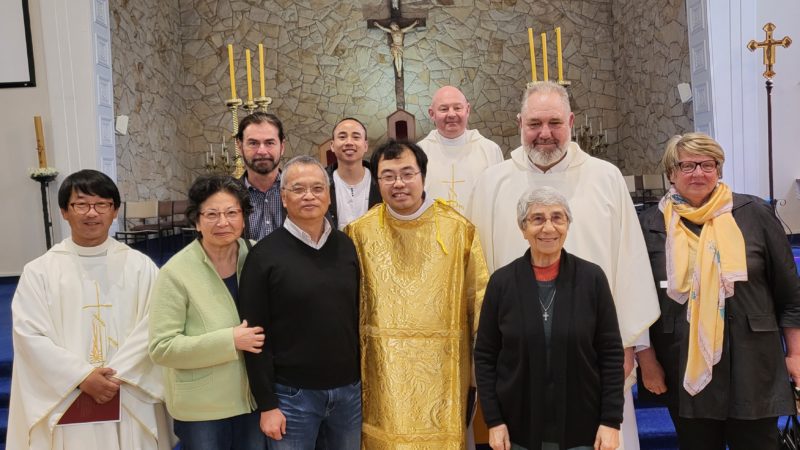 Our Wellington seminarian Alfred Tong (from Upper Hutt) was ordained a Deacon on Saturday 2nd October 2021 at St Mary's Pro Cathedral in Christchurch. Despite Covid restrictions, a few family and friends were able to join him for the celebration which was also live-streamed. Please pray for Alfred who is now in his final year of preparation for ordination to the Priesthood.
Vocation Sunday – 25th of April 2021
In his message for Vocation Sunday, Pope Francis encourages young people to be guided by St Joseph who, through his ordinary life, accomplished something extraordinary in the eyes of God. "May (St Joseph) help everyone, especially young people who are discerning, to make God's dreams for them come true. May he inspire in them the courage to say "yes" to the Lord who always surprises and never disappoints." Pope Francis
What is my real place in this world?
What can I offer to society?
What are my strengths and weaknesses?
Do I know what brings joy or sorrow to my heart?
For whom am I?
Pope Francis, Christus Vivit #285/286
When the Lord awakens a vocation, he thinks not only of what you already are, but of what you will one day be, in his company and in that of others."
Pope Francis, Christus Vivit 289
"Today the Lord continues to call others to follow him. We should not wait to be perfect in order to respond with our generous "yes", nor be fearful of our limitations and sins, but instead open our hearts to the voice of the Lord. To listen to that voice, to discern our personal mission in the Church and the world, and at last to live it in the today that God gives us."
Pope Francis – 2018 World Day of Vocations
Contact Fr Andrew Kim – Vocations Director, Archdiocese of Wellington